the p.s. flavor!
tm

club seasonal guidebook

DESIGN

march 27th, 2018

p. s. flavor spice blends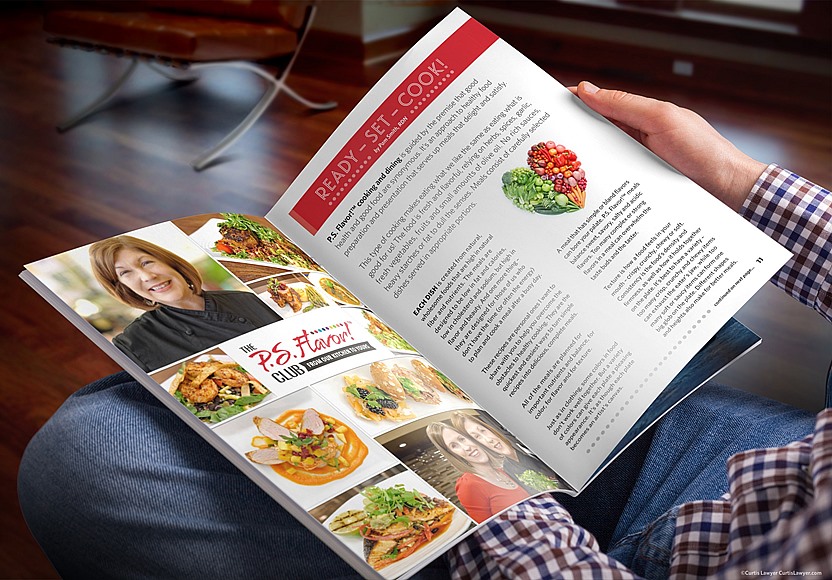 The "Ready Set Cook" spread has two and three page alternative versions to help with pagination issues from season to season.
A few months ago, I had the amazing opportunity to concept and design a new publication for a club program and subscription box that
P.S. Flavor!™ Spice Blends
was starting. It's always so much fun working on a brand new publication because you get to design, develop, and watch – for the very first time – a complete new design aesthetic play out over multiple pages.
I definitely wanted to add a couple of those pages here on my personal portfolio site (more photos and mockups have been uploaded to the
DigitalFoodWorks.com
site -- my photography and development site for businesses with things to eat) – but soon realized there weren't really enough tabs to hold everything!


So... I have split the design portfolio >> print category into two new pages, "print collateral" and "multi-page print and publications". The later, is where I have uploaded a few of the images from the P.S. Flavor!™ Club Seasonal Guidebook.
The successful combination of content and design in any publication comes down to people – specifically, the Editor in Chief, the Creative Director, and the Content Developer. In this case, I had the opportunity to work with two amazing people at P.S. Flavor!™, Pam Smith, RDN (
creating the content and President of P.S. Flavor!™
) and Nicole Ramsland (
Editor in Chief and VP of P.S. Flavor!™
). It's only when everyone is doing their very best for the good of the publication, that a truly open and safe place for developing such a thing can exist.
I think it's easy to see from these few pages, that the P.S. Flavor!™ Club Guidebook is just that kind of publication.
I wish I had more time to write about the design of this amazing little document, but for now, I just wanted to put a few of the pages and mockup photos here, in the new design gallery, and on the
Digital Food Works
site.
Printed publications are expensive to produce and deliver to the end consumer. My heart is in printed work -- it always has been. Every publication and booklet I get to work on is a gift, and I'm so glad this one turned out as amazing as it has. I hope the P.S. Flavor!™ Club Seasonal Guidebook is around for a long time.
To learn more about the
P.S. Flavor!™ Club, click here
.
To visit the
Digital Food Works site, click here
.
To jump to the
Publications Gallery page for this site, click here
.